This is the chilli that I make and love. My personal trainer loves it too. Come to think of it, that's about all the people who have tried it. I need to take this out more. The original recipe came from the Gabby Gourmet of Channel 2 News here in Utah, and I think I had to send in a self-addressed stamped return envelope. Late 80's or early 90's. Back in the day type of old. Over the years I've added, subtracted, cut in half, doubled and generally mucked about with the recipe. Here is how it stood the last time I cooked it.
Gabby's Chili, Modified
1/2 lb extra lean ground beef
1/2 lb lean stew meat
1/2 lb Italian style sausage (sweet or hot, I use hot.)
1 large onion, chopped
1 large green bell pepper, chopped
2 cloves garlic, finely chopped
1 or 2 dried Anaheim pepper, finely chopped
1 Tbsp cumin Seeds
2 1/2 Tbsp chili Powder
1 1/2 Tbsp Worcestershire sauce
1 tsp sugar
1 15 oz can tomato sauce
2 3/4 C water
2 15 oz cans red kidney beans, drained
1 15 oz can black beans, drained
1 15 oz can great northern beans, drained
1 15 oz can corn kernels, drained
1 20 oz can Chili beans, drained
1 28 oz can fire roasted chopped tomatoes, drained
2 4 oz cans green chiles, chopped (I sometimes do 1 can green chiles, 1 can jalapenos. Spicy!)
1 1 oz block of unsweetened bakers chocolate... or maybe two.
Over medium-high heat, brown meat and then drain off the fat. Add onion, pepper, garlic and cook until onion is limp. Next add the Anaheim pepper, cumin, chili powder, Worcestershire sauce, sugar, tomato sauce and water. Reduce heat to low and simmer for 3 hours, stirring occasionally. Add beans, tomatoes, corn, chiles, chocolate. Simmer for 2 hours, stirring occasionally. Serve with shredded cheddar and Parmesan cheeses, green and white chipped onions, and sour cream as garnishes.
A few notes: I have a 6 qt. heavy stock pot, and this over flows that quite handily. I bought a 12 qt stock pot and have room to spare. The original recipe served 20, the base of this recipe is about 1/3rd of that recipe before I added various beans, corn and chocolate. This will probably serve 10 comfortably. I buy my meat in 1 pound portions and brown it all up at the same time (in batches), then freeze half of it for the next time I cook the chili. I've also just thrown everything in after I have the onions all nice and limp and simmer for two to three hours. As with most chili recipes this is really good the second day after all the flavors have had time to meld.
I hope you give it a try and enjoy it.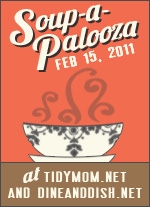 Come join Soup-a-Palooza at TidyMom and Dine and Dish sponsored by Bush's Beans, Hip Hostess, Pillsbury and Westminster Crackers!